Blah Blah Blah
-
ITZY
(2022)
The player is only available for users with 1,000+ points.
---
You are listening to the song Blah Blah Blah by ITZY, in album Blah Blah Blah (Single). The highest quality of audio that you can download is flac . Also, you can play quality at 32kbps, view lyrics and watch more videos related to this song.
Album: Blah Blah Blah (Single).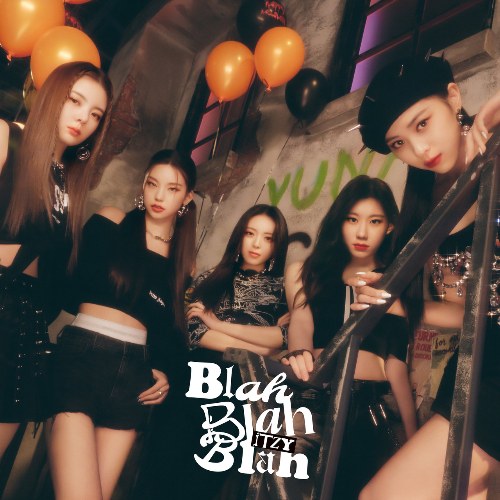 Lyrics
[Verse 1: Lia, Ryujin, Yuna]
Nandaka dizzy yuuutsuna hibi
Yume wa fuzzy, ii naridashi
Gosh, aimaimoko my mind (Mind, mind)
Ganbaru imi kataru tabi
Warau dake sonna watashi
Mou owari ni shinai?
[Pre-Chorus: Ryujin, Chaeryeong]
Kuchisaki dake no silly
Dare mo kare mo seigi wo furi
Damasarenai who is lyin'? (Lyin')
Abaredasu kono kodou beating, beating
Yume no naka hibiku noise
"Genkai janai?"
"That's a bad choice"
Oh, whenever they say blah, blah, blah
[Chorus: Yeji, Ryujin, Lia, Chaeryeong]
Kechirasu no tada monku wa no, no, no
I'm on my way hora doudou to
Shuyaku wa dare? (Shuyaku wa dare?)
Sou watashitachi (Sou watashitachi)
Koe araragete, say bow, wow, wow
Keta ga chigau no faith, show you now, now, now
Jama shinaide (Jama shinaide)
Do you know what I mean now?
(Do you know what I mean now?)
[Post-Chorus: Yuna, Chaeryeong]
Ooh-ooh, ooh-ooh-ooh-ooh, yuzuranai zenbu
Ooh-ooh, ooh-ooh-ooh-ooh, just keep on fighting
[Verse 2: Ryujin, Chaeryeong, Yuna]
Haruka kanata shinin'
Yume oi victory, yeah
Kurayami no mukou ni todoku made so lonely nights
Wanna watch me, watch me, watch me (Watch me)
Trust me, trust me, trust me (Trust me)
Yеah, jinsei wa stage, ad-lib no renzoku
[Pre-Chorus: Yuna, Yeji, Ryujin]
Mudana jikan wa finish
Darеka no mane nante muri
Akiramenai keep it coming (Coming)
Hotobashiru shoudou hitting, hitting
Yume no naka hibiku noise
"Genkai janai?"
"That's a bad choice"
Oh, whenever they say blah, blah, blah
You might also like
[Chorus: Lia, Chaeryeong, Yuna, Ryujin]
Kechirasu no tada monku wa no, no, no
I'm on my way hora doudou to
Shuyaku wa dare? (Shuyaku wa dare?)
Sou watashitachi (Sou watashitachi)
Koe araragete, say bow, wow, wow
Keta ga chigau no faith, show you now, now, now
Jama shinaide (Jama shinaide)
Do you know what I mean now?
(Do you know what I mean now?)
[Bridge: Yuna, Chaeryeong, Ryujin]
Donna toki datte madowasarenai
Shinjiru no wa takanaru kodou
Mayakashi da ne kudaranai issai
Blah, blah
[Chorus: Yeji, Lia, Ryujin, Chaeryeong]
Kechirasu no tada monku wa no, no, no
I'm on my way hora doudou to
Shuyaku wa dare? (Shuyaku wa dare?)
Sou watashitachi (Sou watashitachi)
Koe aragete, say bow, wow, wow
Keta ga chigau no faith, show you now, now, now
Jama shinaide (Jama shinaide)
Do you know what I mean now?
(Do you know what I mean now?)
[Post-Chorus: Yuna, Chaeryeong]
Ooh-ooh, ooh-ooh-ooh-ooh, yuzuranai zenbu
Ooh-ooh, ooh-ooh-ooh-ooh, just keep on fighting