It can be slow sometimes when you listen to the music due to the server's limited bandwidth. When the page or player loads too long, refresh it.
---
You are listening to the song One Last Kiss by Utada Hikaru, in album One Last Kiss. The highest quality of audio that you can download is flac . Also, you can play quality at 32kbps, view lyrics and watch more videos related to this song.
Album: One Last Kiss.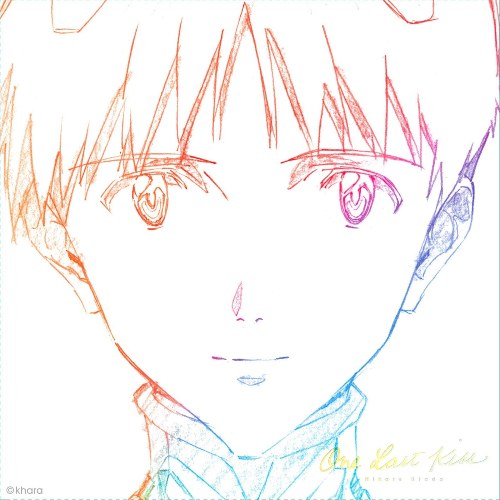 Lyrics
[ヴァース 1]
初めてのルーブルは
なんてことは無かったわ
私だけのモナリザ
もうとっくに出会ってたから
初めてあなたを見た
あの日動き出した歯車
止められない喪失の予感
[コーラス]
もういっぱいあるけど
もひとつ増やしましょう
Can you give me one last kiss?
忘れたくないこと
Oh-oh-oh-oh, oh-woah, oh-oh-oh, oh-woah
Oh-oh-oh-oh, 忘れたくないこと
Oh-oh-oh-oh, oh-woah, oh-oh-oh (Oh-oh)
Oh-oh-oh-oh, I love you more than you'll ever know, oh
[ヴァース 2]
「写真は苦手なんだ」
でもそんなものはいらないわ
あなたが焼きついたまま
私の心のプロジェクター
寂しくないふりしてた
まあ、そんなのお互い様か
誰かを求めることは
即ち傷つくことだった
[コーラス]
Oh, can you give me one last kiss?
燃えるようなキスをしよう (Ooh)
忘れたくても
忘れられないほど
Oh-oh-oh-oh, oh-woah, oh-oh-oh, oh-woah
Oh-oh-oh-oh, I love you more than you'll ever know
Oh-oh-oh-oh, oh-woah, oh-oh-oh (Oh-oh)
Oh-oh-oh-oh, I love you more than you'll ever know, oh
I love you more than you'll ever know
[ブリッジ]
もう分かっているよ
この世の終わりでも
年をとっても
[サビ]
忘れられない人
(Oh-oh-oh-oh, oh-woah, oh-oh-oh, oh-woah)
忘れられない人 忘れられない人
忘れられない人
(Oh-oh-oh-oh, oh-woah, oh-oh-oh (Oh-oh))
忘れられない人
I love you more than you'll ever know
(Oh-oh-oh-oh, oh-woah, oh-oh-oh, oh-woah)
忘れられな 忘れられな
Oh-oh-oh-oh, 忘れられない人
(Oh-oh-oh-oh, oh-woah, oh-oh-oh (Oh-oh))
忘れられない人
Oh-oh-oh-oh, I love you more than you'll ever know
忘れられな 忘れられな
忘れられな 忘れられない人
忘れられな 忘れられな
忘れられな 忘れられない人
I love you more than you'll ever know
[アウトロ]
Ooh
吹いていった風の後を
追いかけた眩しい午後