ParadoXXX Invasion
-
ENHYPEN
(2022)
It can be slow sometimes when you listen to the music due to the server's limited bandwidth. When the page or player loads too long, refresh it.
---
You are listening to the song ParadoXXX Invasion by ENHYPEN, in album MANIFESTO : DAY 1 (EP). The highest quality of audio that you can download is flac . Also, you can play quality at 32kbps, view lyrics and watch more videos related to this song.
Album: MANIFESTO : DAY 1 (EP).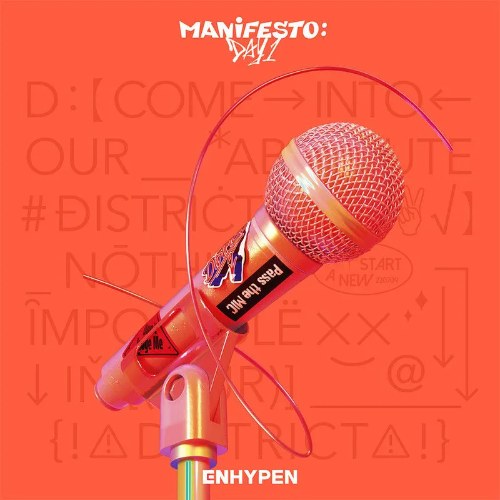 Lyrics
[Intro: Jay, Heeseung, Jungwon]
We back
Ha-ha, woo-ooh-ooh
Got me like, yeah-eah-eah-eah
[Verse 1: Jay, Jake, Heeseung, Sunghoon, *Jungwon*]
Eonjejjeum cheoldeulgeoni? Uh-uh-uh-uh
Jigyeoun jansori, blah-blah-blah-blah
Nolliwa binolliga, what, what, what?
Seon neomji ma josimhae, watch out
Nalga ppajin logic
Nuga nugul yokae? No, no
Sesangi mandeureo dun line, line
*Eopeullae, yeah-eah-eah-eah*
[Pre-Chorus: Sunoo, Jake]
Mosunppunin sesang
Buditchigo tto buditchyeo, yeah
Ayy, ppittakage ppittakage ppittakage, live it up
[Chorus: Jay, Jake, Jungwon]
We bump it up, gatdabeoryeo ratte (Oh-oh-oh)
Neol dakchige mandeul naui new thang (Oh-oh-oh)
Naui kkum sok keolleoneun paradox
Neoui hyeonsilboda meotjyeo
So call me P-R-D-X invader (Oh-oh-oh)
[Refrain: NI-KI, Sunoo, Jake, Jay]
So come on, come on, ayy
Waseo gugyeonghae, hey
Jayuroun urin
Binolliga nolli
Come on, come on, ayy
Mwoga isanghae? Hey
Mujilseoga anin
Sae sidaeui nolli
[Verse 2: Sunoo, Heeseung, Jay, Jungwon]
(Yeah)
(Yeah)
Yeah-eah-eah-eah
Chakan aicheoreom, walk, walk, walk
Billeonui seupgyeok pow, pow, pow
So insane banjeon dwie chungdol
But okay, that's my salui jido
Olko geureun ichi
Jinan segi yaegi, no, no
Geunyang igeon soljikan nae mam mam
Makji ma, yeah-eah-eah-eah
[Pre-Chorus: Jake, Sunghoon]
Mosunppunin sesang
Buditchigo tto buditchyeo, yeah
Nal naebeoryeo dwo, naebeoryeo dwo, naebeoryeo dwo idaero
[Chorus: Jungwon, Jake, Sunoo]
We bump it up, gatdabeoryeo ratte (Oh-oh-oh)
Neol dakchige mandeul naui new thang (Oh-oh-oh)
Naui kkum sok keolleoneun paradox
Neoui hyeonsilboda meotjyeo
So call me P-R-D-X invader (Oh-oh-oh)
[Post-Chorus: Jake, Jay, Jungwon, Heeseung]
Like paradox, like paradox, like paradox (Paradox invasion)
No paradox, no paradox, no paradox (New rules, ooh-ooh)
Like paradox, like paradox, like paradox (Paradox invasion)
No paradox, no paradox, no paradox
[Chorus: Jay, Jake, Jungwon]
We bump it up, gatdabeoryeo ratte (Oh-oh-oh)
Neol dakchige mandeul naui new thang (Oh-oh-oh)
Naui kkum sok keolleoneun paradox
Neoui hyeonsilboda meotjyeo
So call me P-R-D-X invader (Oh-oh-oh)
[Refrain: NI-KI, Sunoo, Jake, Jay]
So come on, come on, ayy
Waseo gugyeonghae, hey
Jayuroun urin
Binolliga nolli
Come on, come on, ayy
Mwoga isanghae? Hey
Mujilseoga anin
Sae sidaeui nolli
Yeah
"ParadoXXX Invasion" Videos