It can be slow sometimes when you listen to the music due to the server's limited bandwidth. When the page or player loads too long, refresh it.
---
You are listening to the song Genesis by STEREO DIVE FOUNDATION, writer by R・O・N in album Genesis (Dimension W OP). The highest quality of audio that you can download is flac . Also, you can play quality at 32kbps, view lyrics and watch more videos related to this song.
Album: Genesis (Dimension W OP).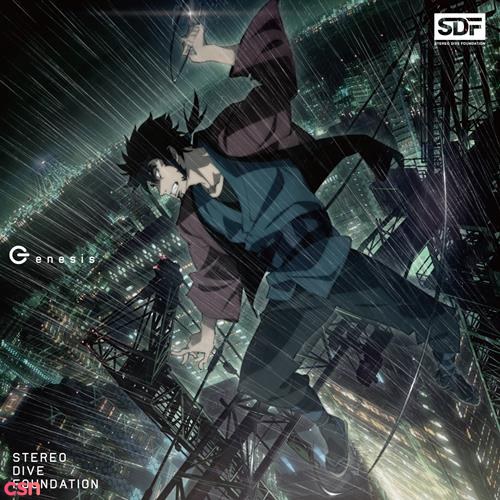 Lyrics
I don't know what I should do now
With every strength I can take to break enemies
zetsuentai no you na hyoujou de teikou o kirau koujitsu o
kyoushin kobamu riyuu nante tanjunsugiru
Why don't you ever try
I won't let you down come along with me
Taking back my way
Why don't you ever try
kakushin wa sono te ni aru
I'm waiting for till the break of dawn
Taking back sabitsuita ishi demo ii
Just change the world
kakumei ni nita Calling back
sesshi reido de niburu kiroku o kakikaerarenai you ni to
kessen sareta kyokusei o kataku shimeru
sou darekare kamawazu eikaku ni eguru issai no yuukai o kaita souzou o sute
zouo keshite eranda sekai de made sono susanda me o mitai no kai
Let's bring it one more time
kakerareru mono subete
I bet my life nothing's stopping me
Facing up sousei no hate o ima
I'm walking on
akatsuki o matsu An old gene
Why don't you ever try
I won't let you down come along with me
Taking back my way
Why don't you ever try
kakushin wa sono te ni aru
I'm waiting for till the break of dawn
Taking back sabitsuita ishi demo ii
Just change the world
kakumei ni nita Calling back
Tell me what's wrong with the society
that everybody is saying OK
Low resistance of high zest inner cells
Rebuild the coil there is no lie