It can be slow sometimes when you listen to the music due to the server's limited bandwidth. When the page or player loads too long, refresh it.
---
You are listening to the song 5452830 by Hoả Tiễn Thiếu Nữ 101, in album Gặp Được • Tái Kiến (遇见•再见) (EP). The highest quality of audio that you can download is flac . Also, you can play quality at 32kbps, view lyrics and watch more videos related to this song.
Album: Gặp Được • Tái Kiến (遇见•再见) (EP).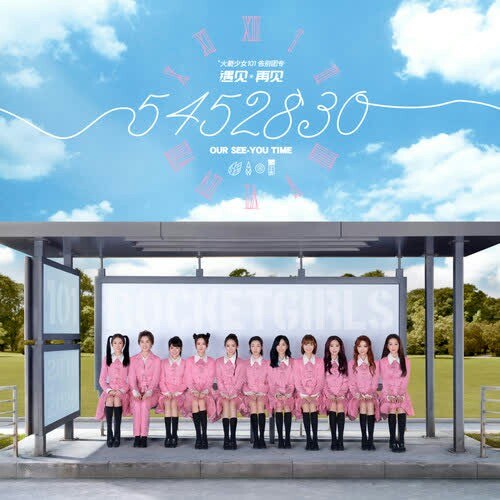 Lyrics
孟美岐:
To My Girl 听倒数秒钟滴答滴
这封信 寄给明天的你
吴宣仪:
别哭 用爱笑的眼睛
去回看我们遇见夏天的电影
杨超越:
黑暗中 要记得抬头看星星
我们啊 一直住在光里
徐梦洁:
别怕 爱暖过你背影
放胆的走吧青春怎敢不远行
Sunnee:
无时无刻 不在想你
去下一个路口 和你相遇
赖美云:
无时无刻 不在想你
Our see you time Don't forget anything
赖美云/紫宁/李紫婷:
La la la la la la
傅菁:
To My Girl 你会在哪一站旅行
要勇敢 是我们的约定
Yamy:
昨天 好舍不得忘记
当宝贝捧在手心朝人海前行
紫宁:
无时无刻 不在想你
去下一个路口 和你相遇
紫婷:
无时无刻 不在想你
Our see you time Don't forget anything
合:
愿我们 永远有出发的勇气
寄封信 给未来的自己
此刻 我紧紧的抱你
然后松开手大声喊跑吧别停
段奥娟:
愿我们 有倔强热烈的眼睛
含着泪 也敢各自飞行
吴宣仪:
记得 你曾紧紧抱我
Sunnee:
然后松开手大声喊跑吧别停
杨超越:
我会 喊出你的名字
孟美岐:
来怀念青春pick me up的夏季