The player is only available for users with 1,000+ points.
---
You are listening to the song Switch by Da-iCE, in album REVERSi (EP). The highest quality of audio that you can download is flac . Also, you can play quality at 32kbps, view lyrics and watch more videos related to this song.
Album: REVERSi (EP).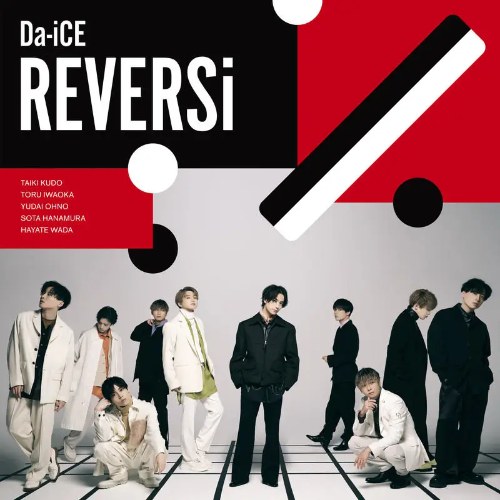 Lyrics
ai ni koi koga rete Switch
arugorizumu ni nose raretebakkaja
kyuujoushou mo nozome naimama Mayday
(I will show you suteki na soukanzu)
mukashi hayatta gorudentaimu no
shuyaku mitaininareyashinaino
kanata wo tate temo konokata ha tata naishi
maru goto michizure o suki ni shotaimu
ai ni koi koga rete Switch
machi nozomu yori tobikon de
erigonomi shiteku subete wo
haji rauyori kanji tetai
majiwa ru You and I You and I
monokuro datta channeru ga
karafuru ni kawari hajime te
utsuri dashita shinjitsu no ari kataha
doko ka doko ka
ai ni koi koga rete Switch
yokoku toba shiga kuse ninattamamaja
jousho mo katei mo tanoshi menaiyo Maybe
tsukuri koma reta yohaku nonai kyakuhon
yaburi sute tara jiyuu ha mokuzen
hate nai machigai kini surunoha tome te
chira tsukaseteiku himitsu no shotaimu
machi nozomu yori tobikon de
erigonomi shiteku subete wo
haji rauyori kanji tetai
majiwa ru You and I You and I
monokuro datta channeru ga
karafuru ni kawari hajime te
utsuri dashita shinjitsu no ari kataha
doko ka doko ka
ai ni koi koga rete Switch
saisei dekina i honne no dabingu mo
hikoukai nishite yori sou Your side
aisa retamama itoshi teitai
wagamama nisarau subete wo
utsukushi sayori abunau i mirai ga
shiri tai shiri tai
machi nozomu yori tobikon de
erigonomi shiteku subete wo
haji rauyori kanji tetai
majiwa ru You and I You and I
monokuro datta channeru ga
karafuru ni kawari hajime te
utsuri dashita shinjitsu no ari kataha
doko ka doko ka
itoshi te koishi te
ai ni koi koga rete Switch
ai ni koi koga rete Switch